Your Website Should Never Be Done
How a "Living Website" Helps you Rank on Google
So you spent a fair amount of money to get a great website. It's got all the pages, it's interactive, it's beautiful. Maybe even perfect! Now you can move on from this silly website stuff because it's completely done, right?
Wrong.
If you want your website to keep giving you traffic and conversions and new customers, you need to keep your website alive.
It's a BIG misconception that once you get your website "perfect", it's done. It's never done, not if you want to rank well on Google.
Updating your business website with regular, new content and pages is vital for convincing Google to place your site higher in search results. Matthew explains why AND provides many great examples for service companies.
Your website should never be done. People want to wait until they go live with a new website until it's done… it should never be done. It should be a living thing. It should be part of your business with your milestones, your celebrations, when you start carrying new brands, etc.
The Importance of Regular Web Updates
There's no doubt you're going to be richly rewarded if your company website is a living part of your business.
By doing this, you are literally handing Google exactly what they want.
You're reinforcing over and over and over, that you are an HVAC company in this city. You are doing that with regularly updating your site with information and posts about highlights such as a company party at a local place, an anniversary, a community event you sponsored, an HVAC system you donated to a good cause, etc.
When you're doing that over and over and over, especially when your competitors' websites have been the same for several years, that's a that's a huge advantage.
The more often and the more clearly you can help google see who you are, where you are, and what you do… THE MORE YOU WIN.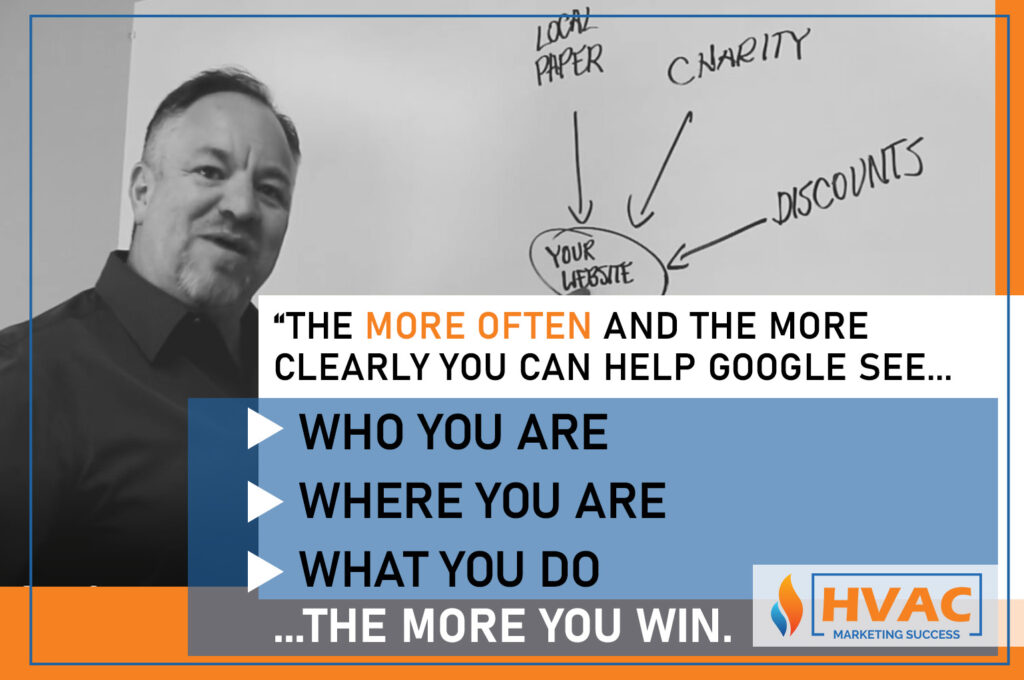 Valuable Updates & Posts for HVAC Websites
Struggling to know what you can be constantly adding to your company's website? That's our area of expertise. Me and my team shine at finding those amazing opportunities for our clients to constantly keep their website alive and active.
If you're a service business, like an HVAC company, here is just a start of a list of items to consider adding to your site as they happen:
Service milestones – perhaps you installed your 100th furnace
Celebrated 20 years in business
You received Angie's List award or an A+ rating from the BBB
A long-time employee, manager or founder retires
A technician receives a new high level of certification
You win your town's "Best HVAC Company" award
You gave away a heating system free through a Veterans program
Your company participated in a 5K
You donated to a local organization
You are sponsors to the local college team who won a big game or title
Is Your Marketing Working? Get a Free Second Opinion
Would you like a second opinion about your marketing? Do you want someone to look at the reporting, the emails you get, your website, and your online presence? Do you want feedback on how well your money is really being spent, to know what makes sense, and what doesn't make sense, just reach out. You can text me or call me.
It's a free second opinion. If I can bring value to you and help in some way, I'm happy to do it
Get more helpful advice on online marketing tactics for service businesses: